Breathe in Peace…Breathe out Tension
Massage Therapy in St. Augustine, FL
Owner Diana Beranek
Text or call Go Madd 4 Massage today! We are always improving our facility so we have installed new carpet, a new vanity in the bathroom, new light fixtures & new sign on U/s 1. In 2020, we added a new AC unit which is quieter & more efficient plus a new washer and dryer in the office & hot water heater. We hope you enjoy our new upgrades & the coziness of the entire office setting. In 2021, we added a large relaxing beach scene screen along the back wall of the massage room in order to enhance the ambiance. We also added tile to the bathroom walls. In 2023 we repainted the entire office.
Contact Us Cancellation Policy
Go Madd 4 Massage offers only professional, ethical, non-sensual massages. Inappropriate requests by text will not be tolerated & all clients must be draped.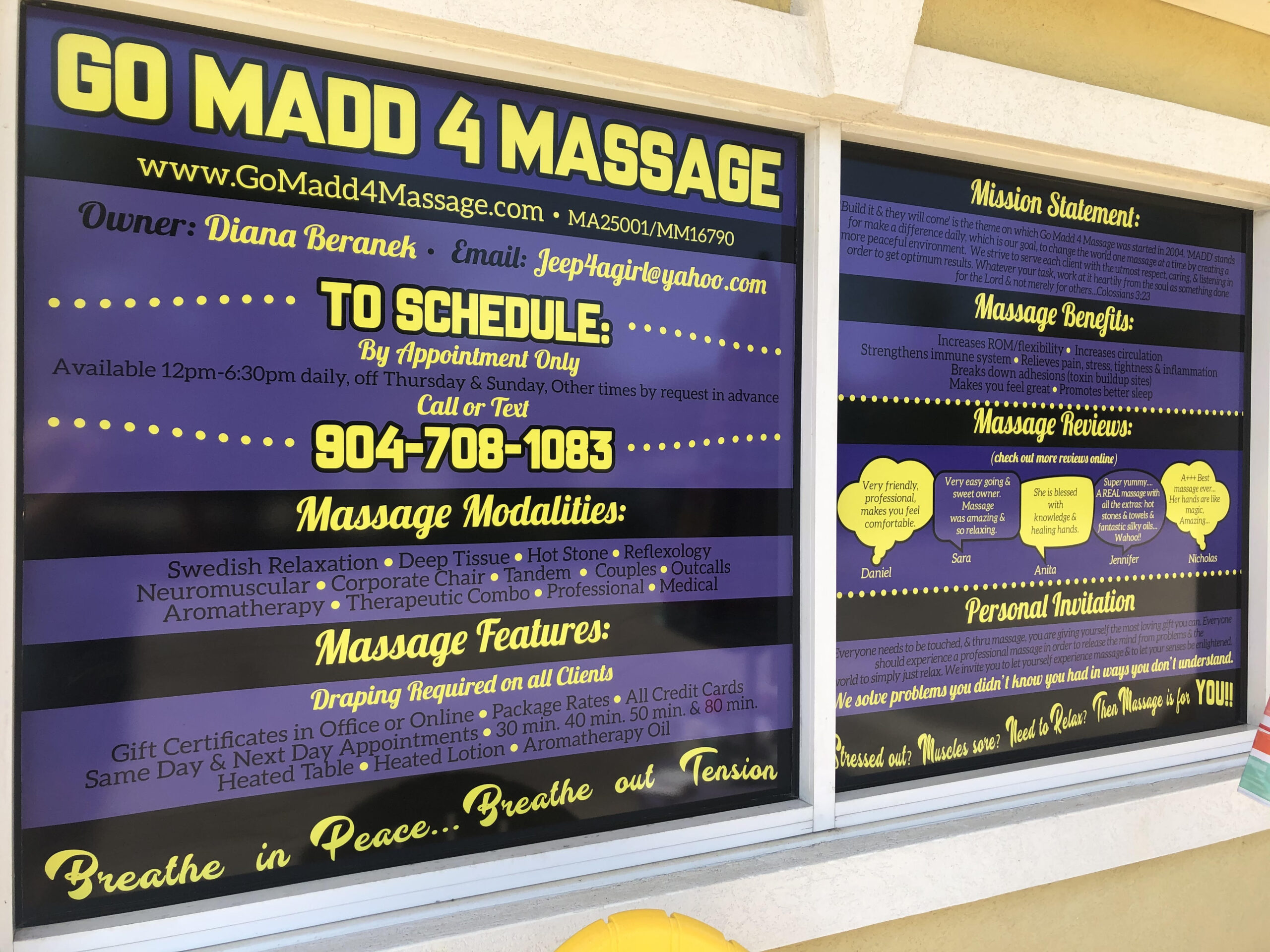 Quality, Professional Massages
Massage therapy is more than just a physical relaxation for your muscles—it should also be a rejuvenating and stress-free oasis, giving you the time, space, and care to renew your energy and enjoy some peace. Here at Go Madd 4 Massage, we strive to always provide that kind of empowering massage therapy in St. Augustine, FL. We have been in business as a locally female-owned and operated company since 2004, We have developed a loyal following and a strong word-of-mouth reputation for high-quality massages, flexible service and a welcoming, relaxed environment.
Call To Schedule an Appointment
Important info on prices and more for all clients:
Cancellation Policy
In order to serve you best, we ask that you observe all of the following conditions:
Any cancellation or reschedule needs to be done at least 6 hours in advance by text or phone, preferably day before; Please explain what happened. We understand things change & life happens which is why we don't require 24 hours notice like many medical businesses. Emergencies do happen, but as owner, I will determine what is considered an emergency where fees would be waived. Forgetting an appointment is NOT an emergency.
A massage appointment isn't an option. Once an appointment is scheduled, it's a commitment to me, my business, and most importantly to yourself & your health. I am here waiting on every client, & my time is valuable. I am a one-woman show and have a large clientele so there is a waiting list most days. My time has to be utilized to help the most people.
Mutual respect between a client & therapist is appreciated. It is your responsibility as a client to make sure you know when your appointment is. I do not have the time in most cases to send reminders. I can provide a text message with your appointment time or give you a scheduling card. Rescheduling appointments is a very time-consuming activity so there are consequences if the appointment is missed.
Rebooking fees for no-shows or late cancellations less than 6 hours are as follows:
50 min massage booked: $25…..80 min massage booked: $40
These fees are payable using Zelle, Venmo, credit card by phone, or if necessary, added to your next appt. Credit cards are Not kept on file. If you have a package, ½ the time will be deducted on the next session. Referring clients or buying gift certificates is appreciated, BUT it does not negate rebooking fees. They are separate issues. Future appointments may need to be paid in advance if there is a continual issue in showing up. Refusing to pay these fees may result in your removal as a client.
I value you as a client, and I want to be valued as a therapist for my time.
Availability:
Flexible appointments are available 5 days/wk. We are closed Thursday and Sunday. We are not walk-in & do not have retail hours. We are normally available 11 am-6:30 pm by appointment only. Any day is subject to change without notice due to the flexible scheduling needed. Outcalls can be available any given day as long as window of time around office clients is possible. Couples sessions are done by Diana & Caleb with advance notice.
Privacy & Confidentiality:
Please note that a sign on the front door states *Massage in Session* . The door is locked & will be opened for the next client. This ensures privacy & confidentiality for all clients. Please wait outside in the comfortable chairs provided until the therapist is ready for your session. If it is raining, then please wait in your vehicle. There is an awning above the chairs, but we want you to be comfortable until we are ready for you. Please know that even if we get behind by 10-15 minutes due to individual attention or busy scheduling, that you will get your full time & focus. We aim for consistency & great massages. Your help is appreciated in this manner!
Gift Certificates:
Please inform Diana if you have a gift certificate upfront when booking appt or if you have a coupon or special deal so there is no confusion about the type of massage or pricing. If you do not present the gift certificate, coupon, or special deal upfront before massage starts & have not informed the owner of the full situation, then you may have to pay full price in order to receive the massage. Please note that as business owner, I can dishonor any situation that I deem disrespectful, rude, or offensive to me & my business. We are here to serve you the valued customer & it is a win win situation when there is mutual respect.
Payments:
Payment is due at the time of service. Payment can be in the form of cash, check, any credit or debit card or thru the paypal app. **NEW** We have just added Venmo & Zelle as acceptable payment methods. There is also a paypal button on each page of the website if you want to purchase a massage for yourself or someone else & pay upfront for a certain monetary value. We don't require credit card by phone when booking appt, but in some cases e.g. couples massage, groups, or manual lymphatic drainage, a deposit or full payment may be required. Starting January 2, 2023, ALL credit/debit card transactions will incur a 4% fee, but other payment methods are exempt from this fee at this time.
Invoices:
If you need an invoice for business or medical reasons, then please let the therapist know. At the office, it can be filled out on a form. For mobile services, it needs to be emailed to you.
About Our Business Name:
The 'madd' part of Go Madd 4 Massage stands for make a difference daily which is something I strive for both in personal & business life.
Massage Benefits:
Relieves anxiety and stress
Promotes better sleep
Creates body and mind relaxation
Increased range of motion and flexibility
Relieves sore, tight muscles
Improves circulation of blood, oxygen, and lymph (drainage)
Breaks down adhesions/knots (toxin buildup sites)
Reduces inflammation and pain
Makes you feel great
Strengthens immune system
Massage Tips:
Drink plenty of water after a massage and for the next 24 hours, even more true if your first massage.
Please let the therapist know if this is your first massage.
It is normal to be nervous or anxious about your first massage as you don't know what to expect.
It is ok to ask questions to understand what will happen during the massage
Relaxation music will be played during a massage unless requested otherwise.
As part of a professional massage, all clients are draped with a sheet or towel as part of state law.
Advise the therapist of any bruises, medical problems, or concerns.
---
Call Us Today
Please watch the videos to meet Diana, the owner, and see the interior of the office. More office pics are located at the bottom of the prices page.
Learn More About Diana: Click Here
Visit our FAQ: Click Here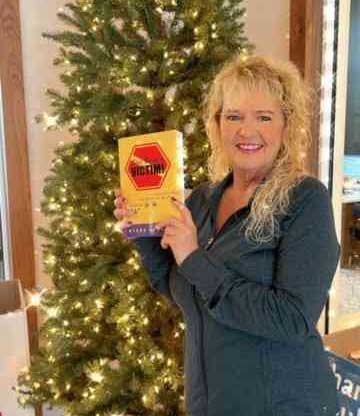 NEW BOOK BY DIANA!!!
Stop Being a VICTIM! Lift Weights Off, Lift Eyes Up, and Spread Your Wings is her new personal memoir book and her first go as an author. It is now available in Print, Audio Book or E Book on Amazon, iTunes, & Barnes & Nobles by clicking the button below.
Her book can also be purchased directly through her in order to get bookmark, personal signature, and personal message.
Buy My New Book